Summer fun
Jun 22, 2019
We had an absolutely amazing time today at our Wellburn House's annual summer BBQ. Thank you to everyone who came to support us, to all of our amazing staff who came along to help on their days off, and to Shirley Mac and Alfie Dobson for entertaining us all! All the money raised from today is going to Dementia UK- so once again, a huge thank you! We will hope to see you all again for another BBQ next summer!
A wheely good time!
Jun 20, 2019
Today, Maud was delighted to go on a surprise trip to Redcar to test out our new all terrain, beach ready wheelchair! It has been 2 decades since Maud enjoyed the beach in Portugal. We were able to go right up to the waters edge! Safe to say it's a huge success!
True dedication
Jun 17, 2019
This month marks the 25th year that our Riverhead Hall Care Home Home Manager, Sallie Aitken, has worked for us here at Wellburn. Thank you for your unwavering loyalty and dedication to Wellburn and to Riverhead Hall!
A piece of cake
Jun 13, 2019
It's one of our favourite days of the year today, as we support the Alzheimer Society's cupcake day! Audrey and Nora from our Riverhead Hall home, had a lovely morning supporting the day, by helping out at a community event, held at the Bell Hotel in Driffield. It was absolutely packed- wonderful to see our town supporting and bringing awareness to this charity!
Life's a beach
Jun 13, 2019
Our Nightingale Hall Care Home Home Manager, Mike, has been having a sneaky go on our brand new beach easy and all terrain wheelchair this morning. Here at Wellburn, we constantly want to push the boundaries in regards to the trips that we offer our residents, and want to provide them with the opportunity to experience the great outdoors as much as possible!
The custom made wheelchair has very large rounded tyres, which helps it to glide across the sand and different terrains more easily, meaning it can get right up to the sea and in the shallow waters at the beach. This chair will be the first in the North East and we're really looking forward to being able to enjoy the beach, and usually more difficult destinations, even more with our residents across our homes!
Volunteering for tiny lives!
Jun 1, 2019
Last week was #NationalVolunteerWeek, so to mark the occasion, residents and staff from our Craghall Care Home helped collect donations at the Newcastle Theatre Royal for their chosen charity of the year, RVI Tiny Lives (Special Care Babies). They helped to raise a brilliant £233.39 for the charity. We're so proud of you all! Well done!
wine matters
May 30, 2019
Today, we launched #workmatters at our Riverhead Hall Care Home, with David going wine tasting at Flourish and Prosper. David started working for the prestigious Justerini & Brooks of St James Street in London, in 1968, until he retired in 1988. David was employed as their warehouse manager, and so his knowledge of wine was, and still is, very extensive. David loved his job and has very fond memories of working here, and so a work matters visit to Flourish & Prosper, was perfect.
Shaun, the owner of the store, was fantastic and has a mine of knowledge, making David's visit even more brilliant! Thank you to everyone at the store for their warm welcome and for helping us in arranging this placement for David
Giving back
May 29, 2019
We love being able to give back to our local communities, and so residents from our Nightingale Hall home were thrilled to visit the Dog Trust Centre in Darlington today, to present them with a cheque from our Easter raffle proceeds. A lovely day for a fantastic cause.
Party time!
May 23, 2019
Today, our lifestyle coordinator at our Wellburn House home, took our lovely Kathleen to their community high school for their summer party. We love to get involved in community events here at Wellburn, almost as much as our residents love going to them. We had a blast, thank you to Prudhoe Community High School for the invite!
BBQ Season
May 19, 2019
To celebrate National BBQ day, our Grimston Court home decided to throw their Summer BBQ! They had a fantastic turn out and would like to thank everyone for their support. Here's to many more BBQ's over the coming months!
A trip to Scotland
May 18, 2019
We'll never get tired of helping our residents to achieve their goals. Last week, Lizzie, our lifestyle coordinator from our Wellburn House Care Home, helped our lovely Carole to achieve her goal of going to Scotland to visit her daughter, Jo. A lovely day for all!
A new experience
May 17, 2019
We love trying new activities here at Wellburn Care, and so love when Reminscience come to visit. Reminscience allow our residents to experience virtual reality, which helps to stimulate conversation and allows our residents to reminiscence over old memories! We had a great time reminiscing at Wellburn House today!
​
Safety first
May 17, 2019
Tonight we were invited to an awards evening held by Care Campaign For The Vulnerable, where our chairman, Rachel, won one of their Inspirational Leaders in Care awards for our safety monitoring system work. Thank you to Jayne and everyone at the charity for a lovely evening, and a huge well done to Rachel!
Connecting generations
May 14, 2019
Residents from our Craghall home have made some very special friendships with the children and staff from TMC Tynemouth Nursery recently. The children and the nursery staff regularly visit Craghall as part of our Sensory Connexions workshops, but today, we were lucky enough to be invited to spend the day at the nursery. Everyone enjoyed the sensory playdough, planted some Sweet Pea seeds and enjoyed a delicious afternoon tea before a singsong and story time. We had an absolutely lovely time!
Making waves
May 10, 2019
We'd like to say a huge well done to our Deputy Manager, Freda, and Lifestyle Coordinator, Louise, who took part in the Radio Borders super-hero splash, for Cash for Kids today! Great work for a fantastic local charity!
The Pantry
May 3, 2019
Thank you to everyone who came to our wine and cheese evening last night at our Glenholme House home. It was lovely to see you all there and to be able to show everyone the results of our recent refurbishment work. We hope you all had a great time and love The Pantry!
Alnwick adventures
Apr 30, 2019
Residents from our Glenholme House home have enjoyed a lovely day out today to the Alnwick Gardens. It's fantastic being able to take our residents out and about in our mini buses, to local places of interest! A lovely day for all.
All in a day's work
Apr 29, 2019
Today we had another #workmatters placement, with Ellen from our Glenholme House Care Home helping out for the day at St Oswald's Hospice shop in Sunderland. Ellen had a fantastic time being back in a working environment, and even treat herself to a lovely new coat! The smile on her face says it all! If your business would like to get involved with work matters, please email us at workmatters@wellburncare.co.uk
A trip back in time
Apr 25, 2019
Qwen, who lives at our Heatherdale Home, used to run a playgroup. One of her goals was to go back to this environment, and so with a little help from our staff at Heatherdale, Qwen achieved one of her goals and went along to visit Broomhill toddlers group. She had a wonderful morning!
Blooming lovely
Apr 25, 2019
Residents from our Nightingale Hall home have thoroughly enjoyed a trip out to Harrogate Flower Show today. A firm favorite event with our residents each year with some beautiful flowers on display!
Perfect day
Apr 25, 2019
We ask all of our residents to tell us 3 goals they would like to achieve, so that we are able to try and incorporate as many of these goals as we can, into our well-being programmes. Today, Helen from our St George's Home, helped Margaret and Margaret to achieve their goal of visiting York Minster. We try and make the destinations we go out to on trips as meaningful as possible, so today was just perfect!
Football fun
Apr 23, 2019
We'd like to say a huge thank you to Sunderland AFC for helping Sol, who lives at our Eighton Lodge Care Home, to achieve his goal of visiting the Stadium of Light. We couldn't thank our tour guide, Keith Dinning, enough for his help. Sol had an absolutely brilliant day!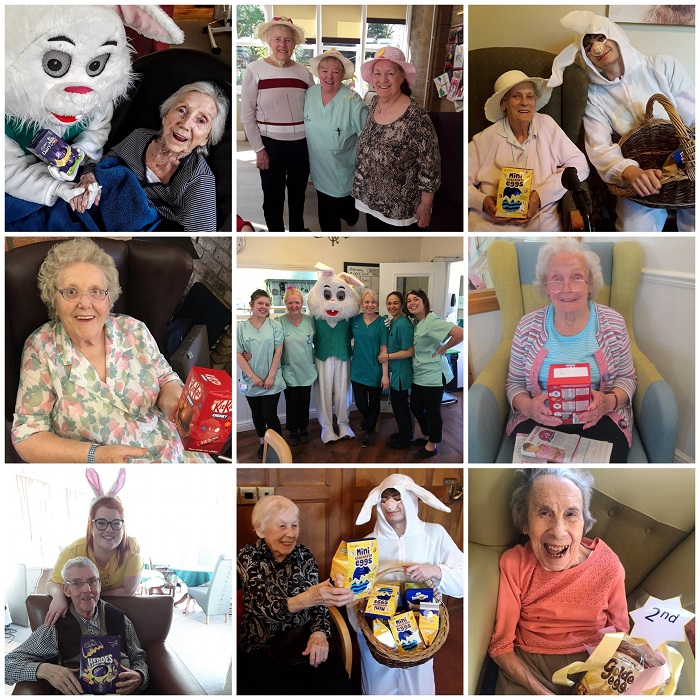 Hoppy days!
Apr 23, 2019
What an amazing Easter weekend we've had across all of our homes, filled with laughter, sunshine and lots of chocolate! We hope you all had a lovely weekend!
Funday Friday
Apr 19, 2019
We love being able to take our residents out and about in our local communities, and so we made sure we made the most of the glorious weather today! Residents from our Nightingale Hall home had a lovely day out to Strikes Garden Centre. A beautiful day with lots of smiles and laughter!
Birthday ballet
Apr 15, 2019
Today it is Shirley's birthday! Shirley lives at our Grimston Court home, and it was one of her goals to go to the ballet. As a special birthday treat, we arranged for the ballet to come to Shirley. Becca danced the Spanish Nutcracker and the ribbon dance for our residents and was absolutely fantastic. Shirley had a wonderful day!
Work really does matter..
Apr 15, 2019
Today we launched our second work matters placement at Glenholme House , with Nancy and Bernadette at Sunderland Royal Hospital on the Children's Ward. Nancy used to work at the hospital on the fracture clinic and in A&E, and Bernadette worked as a midwife. Nancy and Bernadette went to the wards to give the children Easter eggs and to speak to the staff on shift. A few of the nurses recognised Nancy, and it was so lovely to see the effect that even just being on the ward had on our two lovely ladies!
Dairy dreams
Apr 12, 2019
Our Heatherdale home have been making goals happen once again, this time helping Vera to achieve her goal of visiting Morwick Dairy. Vera wanted to see the calf's as she used to have 3 cows herself, Betty, Suzy and Sally. Vera absolutely loved seeing the calf's and it brought back some lovely memories for her!
Out and about!
Apr 12, 2019
Residents from our Grimston Court home had a lovely time supporting the children of Dunnington Primary School at their Easter Service and Choir Performance. The children were absolutely fantastic and our residents thoroughly enjoyed themselves!
Wild Wednesdays
Apr 10, 2019
We had a very different activity on offer today at our Whorlton Grange home, with Zoo Lab! Our residents were really brave and held animals from snakes to rats! It's great to see so much variation in our well-being programmes across all of our homes!
Community Easter
Apr 4, 2019
Residents from our Heatherdale home have had a lovely time this morning, judging the Easter art competition at Red Row Primary School. It's lovely for our residents to be able to get involved in local community events so thank you so much to the school for our invite!
Getting active!
Apr 4, 2019
On a Thursday, you'll find residents from our Riverhead Hall home down at their Local Sports Centre for the weekly "Chair Exercise" class with Helen. Nora and Joan didn't stop throughout the whole 45 minute class today- absolutely marvelous and very impressive!
Jolly day out
Apr 3, 2019
Residents from our Nightingale Hall home enjoyed a trip out to Butterfly World Ltd Stockton on Tees today, a tropical rainforest hothouse for multiple butterfly species, plus a few reptiles. A lovely day was had by all!
Green fingers
Apr 1, 2019
We've launched a gardening club at our Glenholme House home today and have been busy planting sunflower seeds, tomato plants herbs and spices and much more! Now that the weather is improving we can't wait to be able to spend even more time in our beautiful garden!
Spring sunshine
Mar 30, 2019
We've been making the most of the Spring sunshine at our Ryton Towers home and went to South Shields for the day. Lovely fish and chips followed by a trip to the park for ice cream!
Pamper day
Mar 28, 2019
Our lifestyle coordinator at our Heatherdale home, Annamarie, took one of our residents, John, to a Turkish Barber today! John loved getting his hair and beard cut! It's the little things like this that make our homes so lovely!
Doll therapy
Mar 28, 2019
Our residents at St Catherine's are taking very good care of their new therapy doll. Using a baby doll can be a very effective way for a person with Alzheimer's or any kind of Dementia to decrease stress and agitation. A caregiver can use doll therapy as a way to put responsibility, caring and structure back into the lives of those living with Alzheimer's. We can't believe how realistic they look!
Pro golfers!
Mar 26, 2019
Mary and Edmund, who live at our Glenholme House home, reached one of their goals today and attended the American Golf Driving Range in Fullwell. Both Mary and Edmund were keen golfers in the past and so they both had a fantastic time!
The perfect placement
Mar 25, 2019
Today we launched our #workmatters initiative at our Glenholme House Care Home. Betty was a maths teacher for 37 years, and so a placement helping out at Busy Bees Nursery in Sunderland was the perfect fit. She had an absolutely fantastic time, and the smile on her face said it all we think! Betty already can't wait for her next visit! work matters helps our residents to feel a sense of achievement and purpose, which is so important for their self-esteem. It's also a great way of helping out in our local communities. If you know of a local business who could benefit from a work matters volunteer, then please email workmatters@wellburncare.co.uk.
Top 20!
Mar 22, 2019
We are absolutely delighted to announce that we have been named as a Top 20 Care Home Group by carehome.co.uk for the second year in a row! We'd like to say a huge thank you to everyone who has taken the time to review us and to all of our fantastic staff who make our homes so brilliant!
Loves young dream
Mar 21, 2019
Today we celebrated Marion and Harry's Diamond Wedding Anniversary at our Eighton Lodge Home. 60 years married- what an achievement! Marion and Harry had a lovely day celebrating with all of their family and friends. A lovely day for all.
For more news and info about all of our homes, on a daily basis, follow us on